Bank Holiday Monday
Please be aware the Council offices will be closed for the Bank Holiday Monday on May 29th and will reopen on Tuesday, May 30th
North Norfolk District Council (NNDC) is keen to support town and parish councils, community groups and organisations.
Since the Fund started in 2012 NNDC has awarded over £1,440,000 to 183 community projects.
NNDC's Big Society Fund offers grants of up to £15,000 to voluntary and community organisations based within north Norfolk; including town and parish councils, and has been set up to help build strong communities across the district.
The Big Society Grant Fund Panel is a politically balanced group made up of 7 elected members selected by Full Council. The Panel meets four times a year; June, September, December and March. The outcome of grant applications are determined by the panel and reported to the NNDC Cabinet through the Minutes of the Meeting.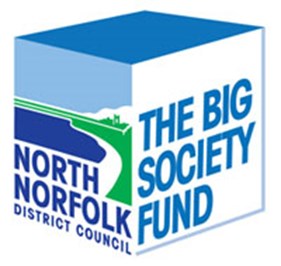 Who can apply?
The Fund is available for projects that support people and activities within the North Norfolk District geographical area, for example:
Local voluntary organisations, charities (whether registered or not) and community groups
Parish and Town Councils within north Norfolk
Larger regional or national charities or organisations if the funding is to deliver a specific project in north Norfolk
Community businesses, social enterprises and other not-for profit organisations
Before you apply - find more details in the prospectus.
Making an application
Prior to submitting an application, please contact Sonia Shuter on 01263 516173 to discuss the project for which funding is being applied for. 
The following documents can be downloaded to help you make an application to the Fund.
All electronic applications should be submitted to supporting.communities@north-norfolk.gov.uk.  If you would like a hard copy of the application pack please contact us using the details in the sidebar.
Applications can be made to the Fund at any time. The Big Society Fund Grants Panel meets quarterly and applicants will be informed of the decision within a week of the decision being made.
Applications will need to reach us by the 8 May 2017 in order to go to the Big Society Fund Grant Panel on the 5 June 2017.
BSF grant awards in the March 2017 round were awarded to:
North Walsham Heritage Group (£3,100.80) to purchase display boards and exhibition cases.
Potter Heigham Playing Field and Village Hall (£8,484.00) to remodel internal Hall/Pavilion space to provided changing rooms, re-roof the linked outside store/garage and repair doors and walls to safely integrate into the Pavilion.
Edgefield Village Hall (£2,392.00) to install Audio Visual and sound equipment to allow the hall to hold film nights and specialist talks with presentations.
All Saints Community Rooms – Mundesley (£6,825.00) to renovate toilets to become disabled accessible and to carry out repairs to roof and repointing of brickwork damaged by Storms early 2016.
Langham Parish Room (£3,850.00) to refurbish the male toilet.
The Raynhams & Helhoughton Village Hall (£9,882.00) to refurbish the toilets and kitchen.
Felmingham Village Hall (£14,000.00) to refurbishment the village hall to include:- redesign interior, replace boiler and improve insulation, replace existing patched roof and purchase a projector for film shows.
Overstrand Parish Council (£6,700.00) to refurbishment of the Parish Hall Kitchen and Toilet facilities.
Felbeck Trust (£3,576.88) to purchase equipment and materials to restore & improve the habitat of the combined Sustead Common & Surveyor's Allotment site.
Swanton Novers Parish Council (£7,000.00) to purchase and install specified adult fitness equipment.
North Walsham Rifle and Pistol Club (£15,000.00) to be used as match funding to release Sports England grant to replace the wooden Clubhouse and its facilities.