Norfolk County Council elections and General Election
Elections will take place on 4 May 2017 to elect County Councillors and on 8 June 2017 to elect the North Norfolk MP
View Graham Allen award winners
Pensthorpe play barn wins prestigious North Norfolk District Council conservation and design award
Hootz House in Penthorpe was awarded the 2016 Graham Allen Award for its exceptional design and contribution to the built environment of the District.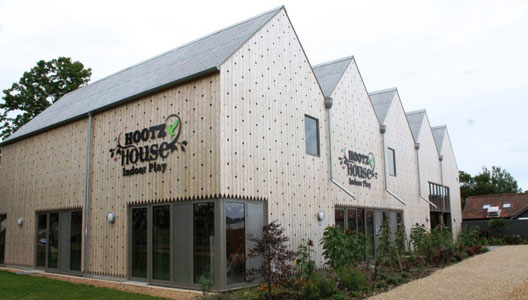 Pensthorpe Natural Parks new play barn incorporates a 300m2 indoor adventure centre and was commended by the judging panel for its innovative approach to design and sustainability.
Chair of the judging panel and Cabinet Member for Planning Cllr Sue Arnold said: "This project has really excelled, not only in its unique architectural design but also in achieving its goal of being truly sustainable and providing an exciting new attraction for the District.
"The standard of entries in this 35th year of the Graham Allen Awards has been excellent. There was extremely stiff opposition and all those shortlisted can be incredibly proud."
Ninety per cent of the timber used in Hootz House construction was sustainably sourced, with the cedar cladding including 50mm-holes for insects and birds. The energy used on site is also provided by a new ground source heat pump.
During the Council's annual Greenbuild event, members of the public were also invited to vote for their favourite shortlisted 2016 Graham Allen project for the People's Choice Award. The vote attracted more than 1,000 votes.
The winner of the People's Choice Award was Sheringham Rail Station for the development of the town's new tourist information centre, public toilets, platform footbridge and new retail units. The project was praised for its attention to detail, quality of workmanship and for improving the town's services.
Sheringham Rail Station also won the Commended Award from the Judging Panel.
The Highly Commended Award went to The Stable Yard, Rectory Lane, Northrepps.
The project involved the difficult challenge of converting a pair of derelict Grade II listed stables for new use whilst maintaining their original character and appearance. The judging panel commended the scheme for its success in securing the long-term conservation of the run-down stables and for adopting a traditional approach to repair and restoration.